Posture, according to the dictionary, means the position in which a person holds their body when standing or sitting. It also involves when we are walking, running and even lying down.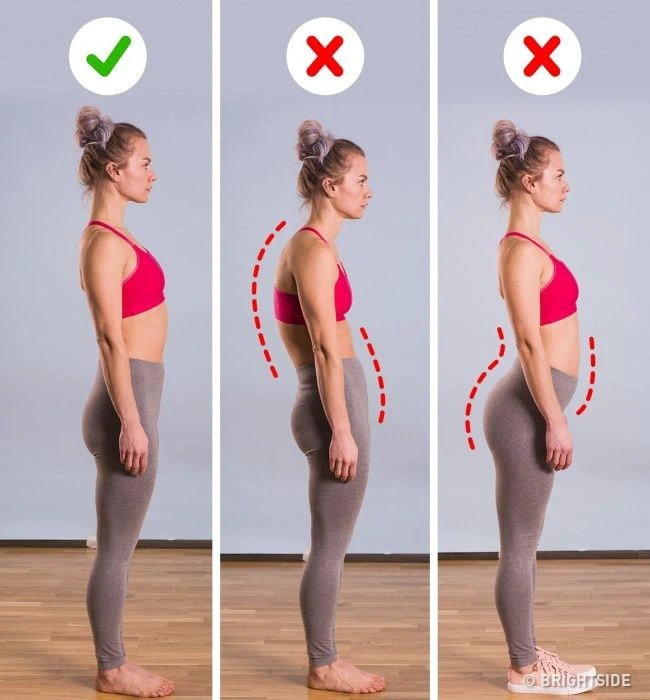 Good and bad standing postures.
Photo credit: Pinterest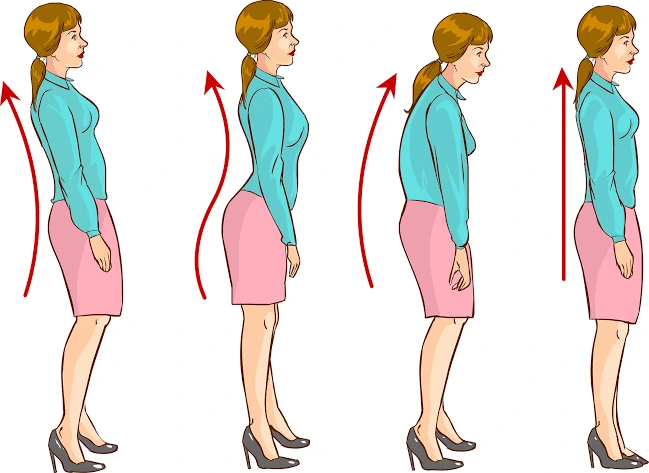 Right and wrong standing postures.
Photo credit: Google images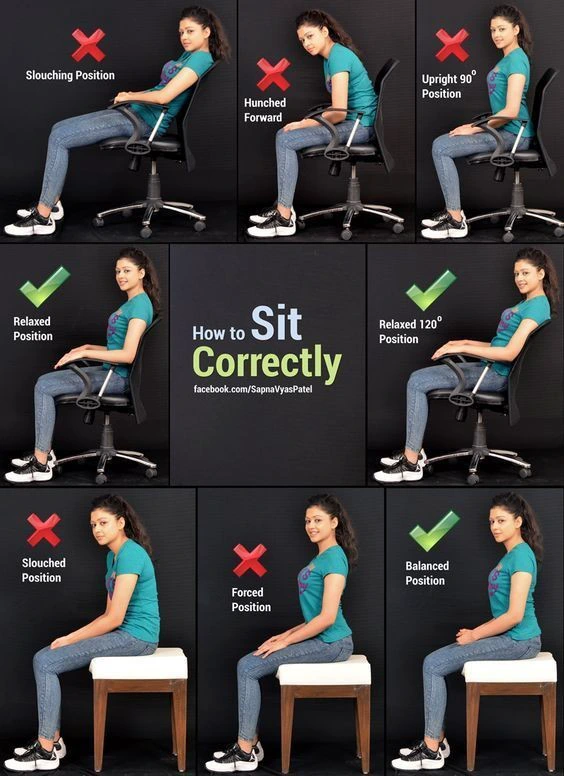 Correct sitting positions and wrong sitting positions.
Photo credit: Pinterest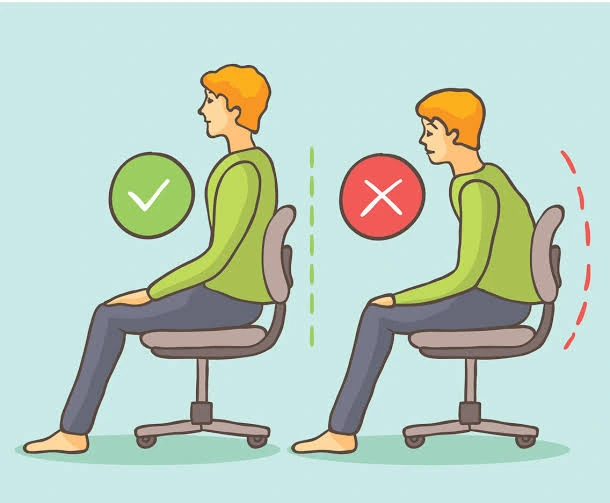 Wrong and right sitting positions.
Photo credit: Google images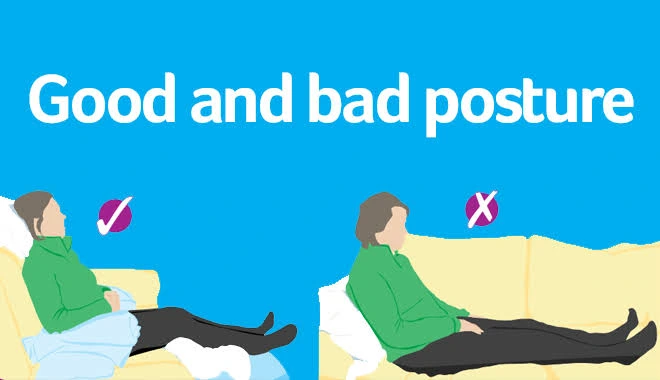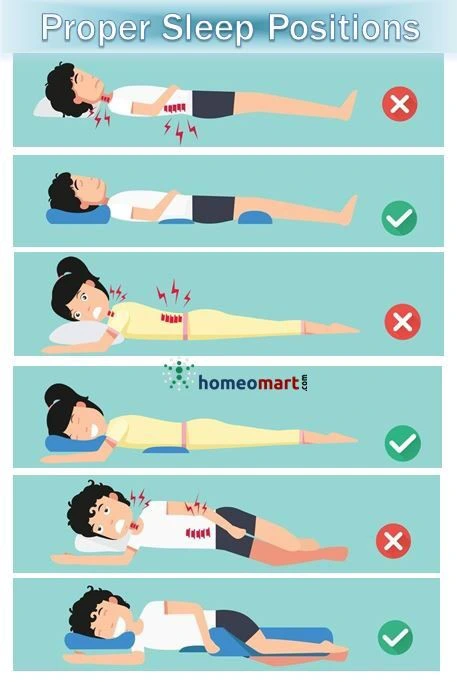 Right and wrong sleeping postures.
Photo credit: Google images
Just like with so many other things, we have the bad and the good. Bad posture affects one in so many ways, one of which includes making you appear less attractive.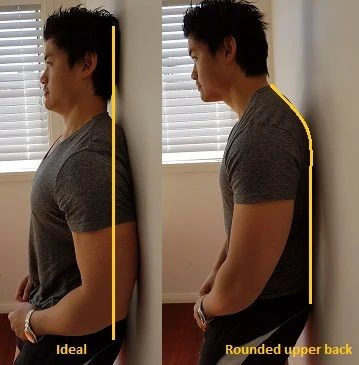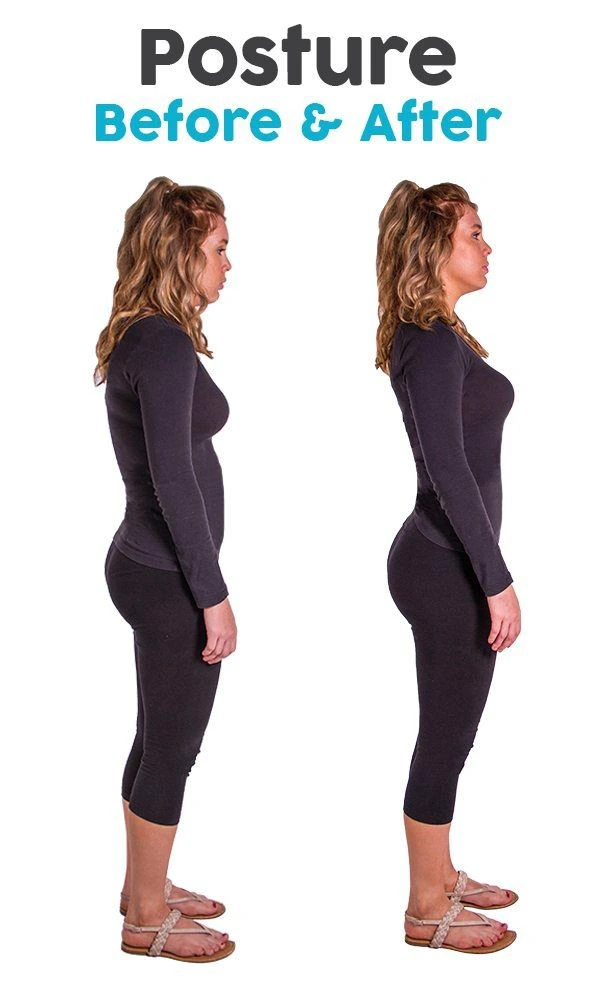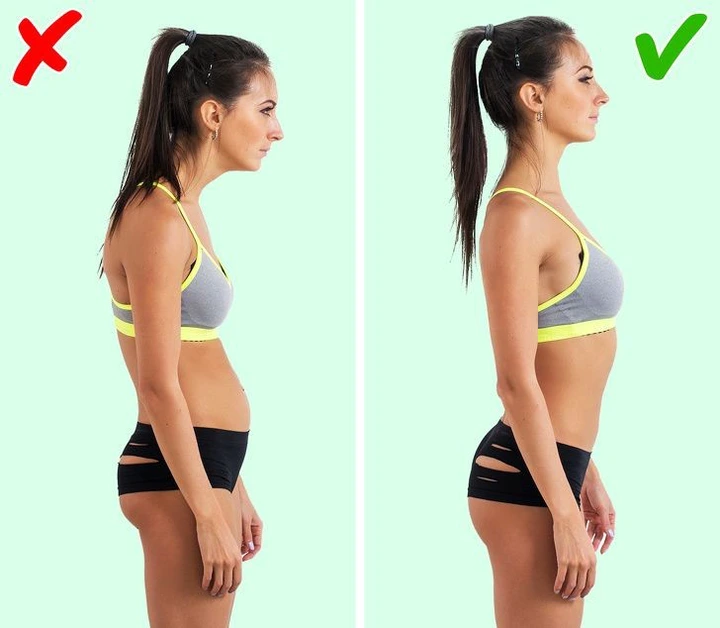 Photo credits: Pinterest
Right from the days of old, people have wanted to look good and they do things that will help them look that way and even expect to get compliments concerning how good they look but even with the best outfit on, bad posture can ruin all the effort you put into everything.
I believe that you have heard that good posture is essential for good health. It is as necessary as eating healthy food, having good rest and doing exercises and you might not know this but apart from making you look unattractive, studies have shown that bad posture can also cause poor digestion and blood circulation, back pain, neck pain and can even cause you feeling less motivated to do things, give you breathing problems, headaches and extreme tiredness, which is known as fatigue.
Some ways in which bad posture can make a person look much less attractive include;
1. Your cannot stand out from the crowd.
You are dressed in just the perfect outfit, your hair and skin are nice, your face is beautiful or handsome but your posture is bad, there is no way you will stand out with such a position even with all the amazing work you have done on your self. If there is someone in the room who has put in just as much work as you have in your look and tops it off with standing upright, he or she will be much more approached by others than you will.
2. It gives you low self esteem and less confidence.
Good posture can make you feel good about yourself which can in turn put you in a better mood, make you feel more confident and have a higher esteem than when you have a bad posture, which can make you feel the opposite of all the things we have mentioned above.
3. Bad posture affects your sleep.
The breathing problems poor posture can cause can affect the level of oxygen that reaches the brain and also cause anxiety which will make it difficult to stay asleep when you fall asleep.
4. It makes you look short.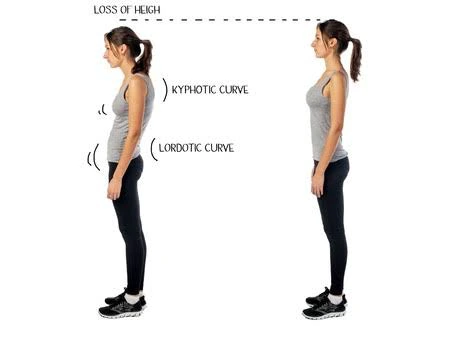 Photo credit: Google images
There is actually nothing wrong with being short, there are even some short people who look more attractive than some tall ones but it looks weird when it's your posture that reduces your height. Take a look at the pictures below to see how bad posture affects a person's height.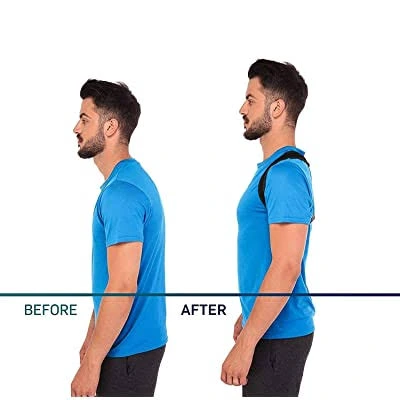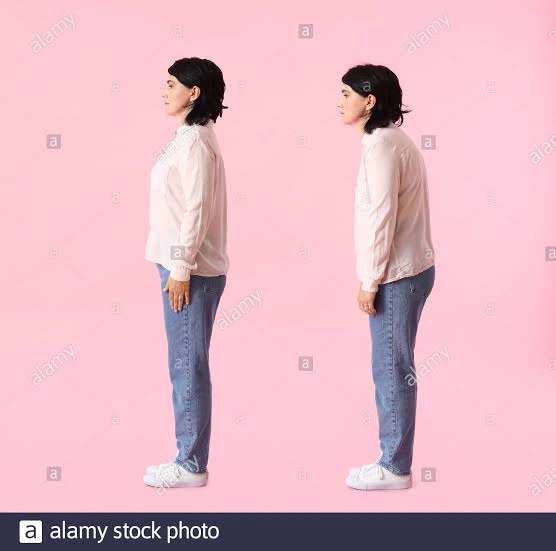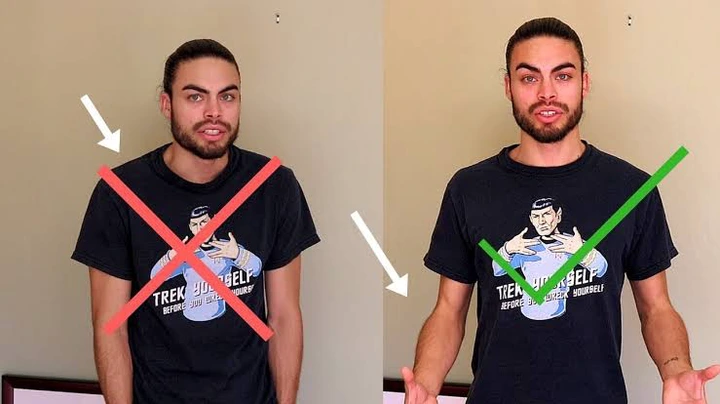 Photo credits: Google images
The difference is usually not much but you will agree that it doesn't look nice and a few inches are still something.
5. It can give you an awkward and ugly walk.
Walking in a slouching position can make your walk look ugly as well and this can affect your look as it takes away some points from your attractiveness.
6. It can cause you frequent pain (back, neck, shoulders, joint and muscle pain).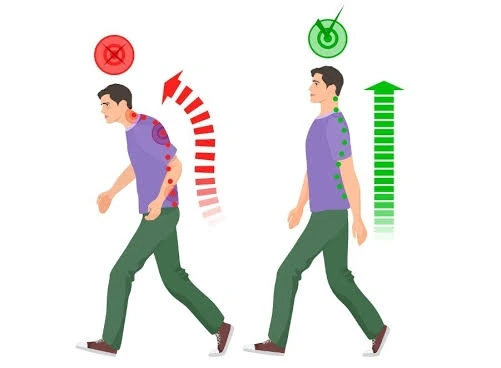 Photo credit: Google images
If you are always in a bad sitting or standing position, at some point, you will begin to constantly feel pain in your joints and muscles.
7. Poor posture can put you in a bad mood.
The last point we talked about is how being in a bad position can make you feel pains all the time, and anyone would agree that feeling constant pain can put you in a pretty bad mood and being in a bad mood can also affect your level of attractiveness.
8. It can make your chest look smaller and flatter.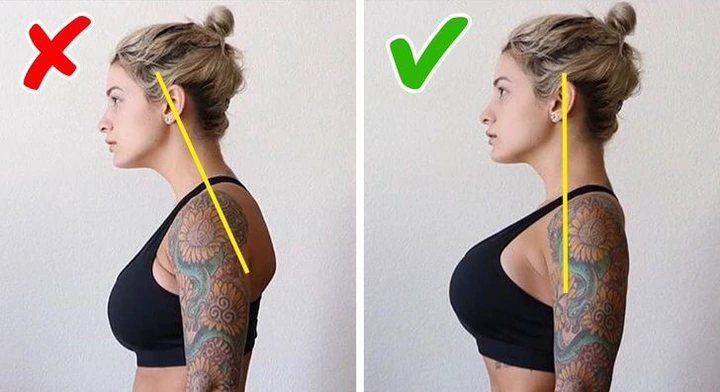 Photo credit: Pinterest
If you are doubting this, you can do a little experiment of standing in front of your mirror and getting in a bad standing position and then standing upright. You would notice that when in the poor posture, your chest area looks more saggy and less full. Being in a good posture also makes your shoulders broader and your hip area fuller.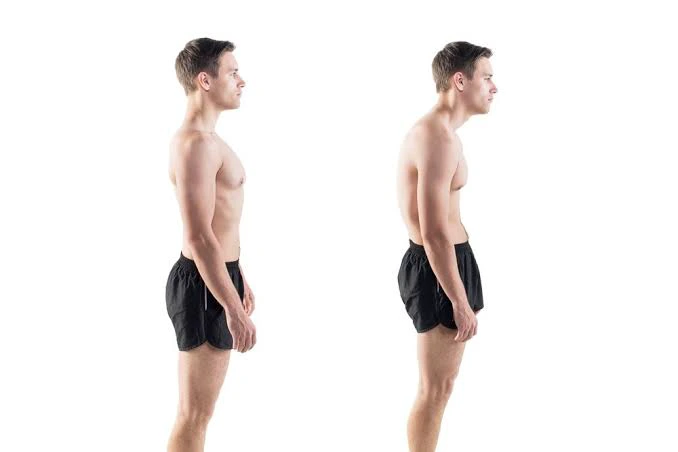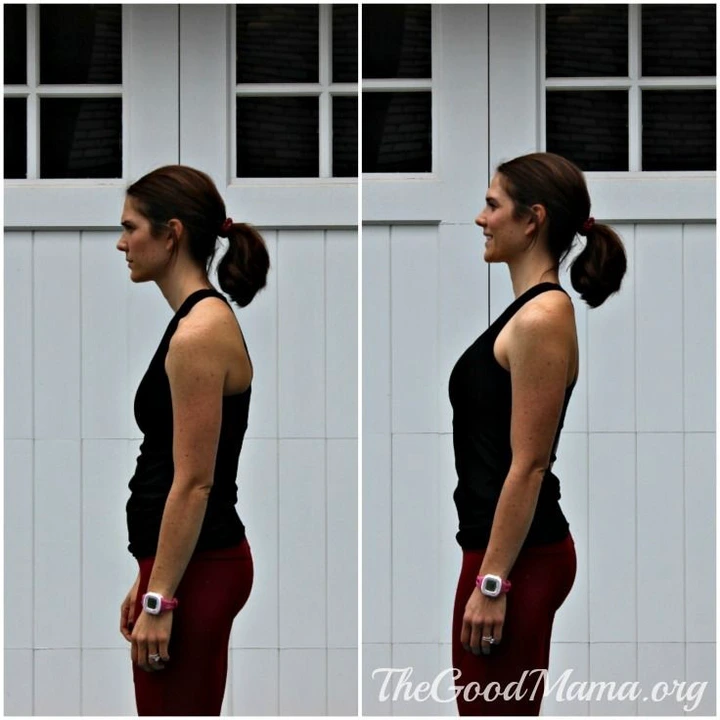 Photo credits: Pinterest
9. It affects your workouts.
Working out with a bad posture will hinder you from seeing the results of your workouts. If you want to see results, it is very necessary to keep a good posture while you workout.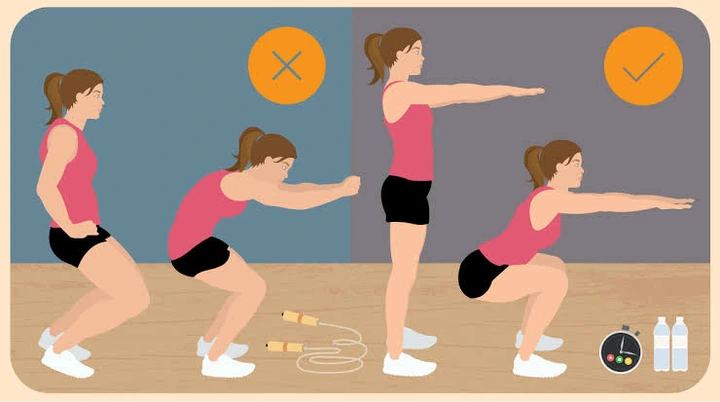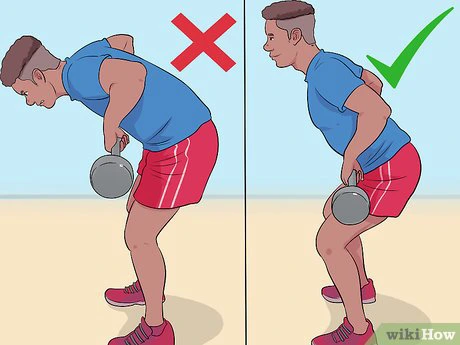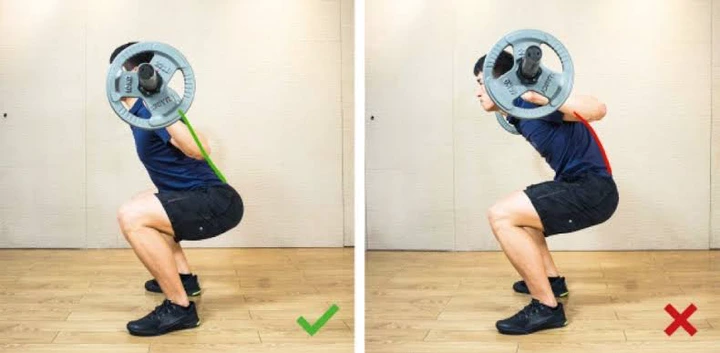 Pictures showing different right and wrong workout forms.
Photo credits: Google images.
With the above picture comparisons between having a good posture and a bad one, you will agree with me that there is nothing attractive about having poor posture.
Now, we would be sharing with you a few ways you can fix bad posture.
1. Awareness. When it comes to fixing problems such as these, the first step is being aware. Many people have slouched so much that now when they do it ,they do not even know when they do or realize that they are slouching. If you are aware, you would be able to stop yourself when you are about to slouch and also correct yourself when you notice you are slouching.
2. Doing some home exercises.
You do not need a gym membership if you are working on improving your posture, you might not even need equipment. There are some exercises you can perform right from the comfort of your home which can help your posture. A very common one is the plank.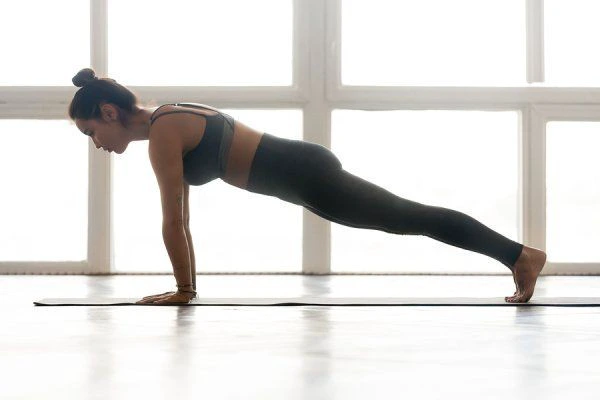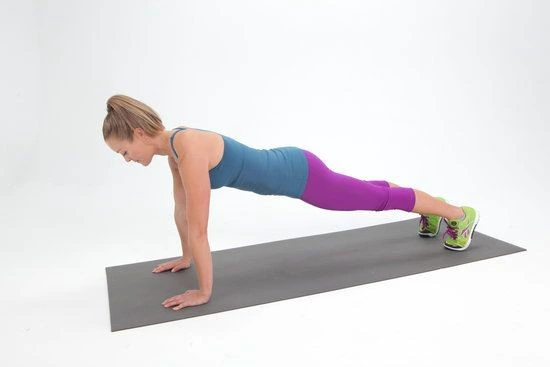 Full planks.
Photo credits: Google images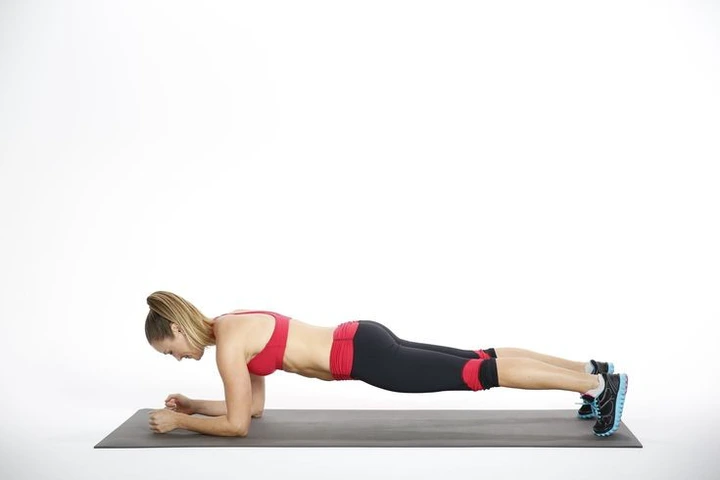 Elbow plank.
Photo credit: Google images
Planks are wonderful in helping the whole body and doing this frequently can really help improve your posture.
Below are a few other simple exercises and stretches you can try out at home.


Exercises and stretches to help fix your posture.
Photo credits: Pinterest
3. Consistency is Key.
I believe this part does not even need any explanation as we all should know what it means to be consistent. Nothing works or changes overnight, it all takes time. Continuously conditioning your mind and body to stand tall at all times and performing exercises to help will have you effortlessly maintaining a good posture in no distant time.
Some benefits of a good posture are better sleep, better digestion, improved blood circulation and breathing, less headaches and tiredness, it improves balance, reduces neck and back pains and so much more.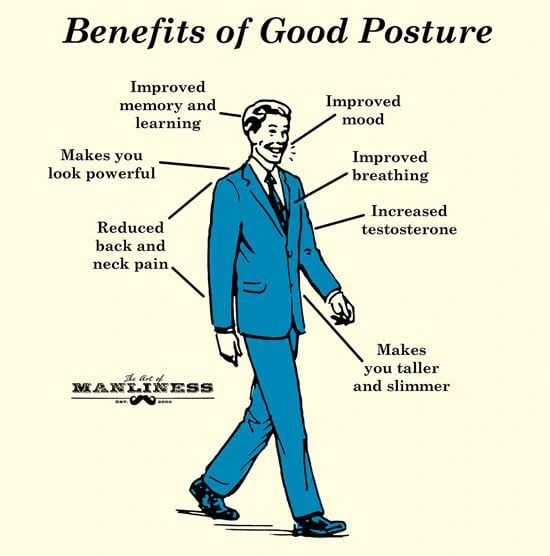 Benefits of having good posture.
Photo credit: Google images
We hope you found this article helpful. Thank You so much for your time. Please do not hesitate to share to others and on your various social media platforms as you might just help someone out there, also follow, like and comment your thoughts on this down below.