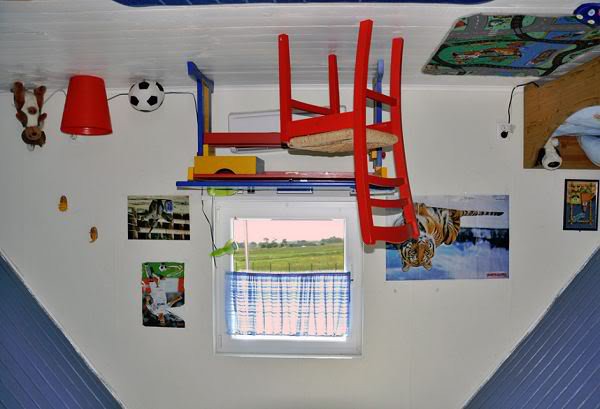 Polish businessman and philanthropist Daniel Czapiewski finished this house in 2007, and it has since become a tourist drawcard for the village of Szymbark. The house took five times longer to build than a conventional one, because the tradesmen became disorientated during construction. Visitors report feeling seasick and giddy when they enter the Upside Down House and walk around on the interior ceilings.
2. The Toilet House, Suwon, South Korea
Sim Jae Duck, mayor of Suwon and Chairman of the Wold Toilet Association, was born in his grandmother's bathroom and decided to dedicate his life to healthy ablutions, water conservation and improving global access to clean, efficient and working sanitation. In 2007, he rebuilt his house in the shape of a toilet. Containing two storeys and three toilets, Duck's toilet shaped house is the only toilet themed house in the world and cost $1.1 million to build. It features a showcase bathroom in the centre and is equipped with rainwater harvesting technology.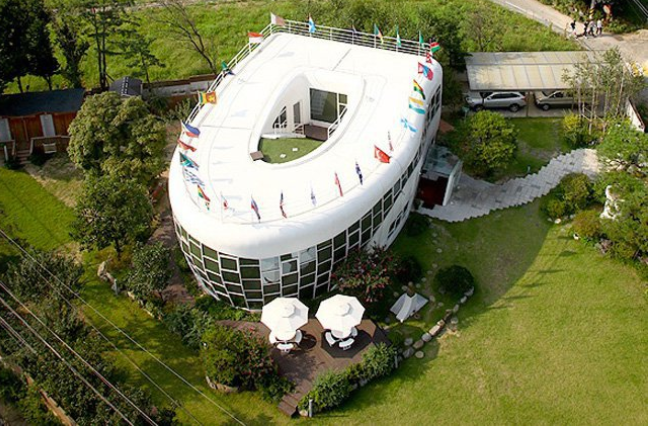 3. Neverwas Haul, Academy of Unnatural Sciences, Berkley, California, USA
This three storey Victorian steampunk house runs under its own steam (pardon the pun) and doesn't need towing to get around. Created in 2006 for the Black Rock Desert Burning Man Festival, bits and pieces have been added to it ever since. Inspired by science fiction works, it was built from the base of a travel trailer and 75% of it is upcycled waste. Every year, Neverwas Haul does the rounds of the local art fairs and festivals. It is a veritable museum of Victorian-era wares on wheels and attracts a lot of attention. Neverwas Haul is available for rent from Shipyard Labs.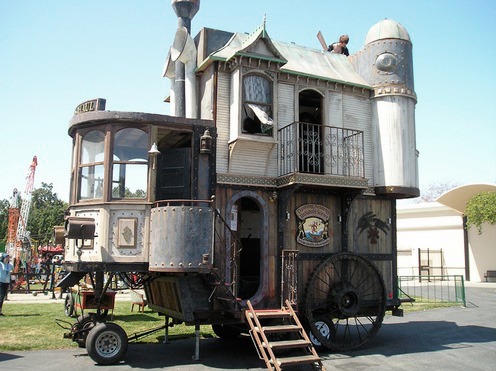 4. The Urban Cactus, Rotterdam, Netherlands
UCX Architects designed this rather amazing apartment building as an example of making the most of alternating patterns to allow more sunlight for outdoor spaces in future community housing. With 98 residential apartments and 19 storeys, the unusual design allows each apartment access to sun, both on the garden petal and some of the interior. The project was designed to allow green space with residency near the Vuurplaat Harbour, as well as excellent city views. Construction of the building began in 2006.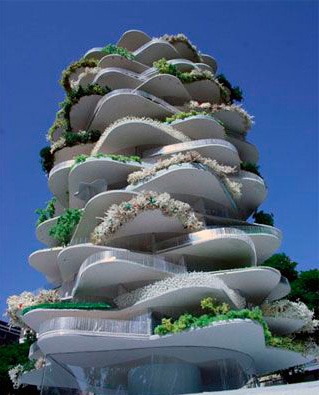 5. Habitat 67, Cité du Havre, Montreal, Canada, USA
Designed by Israeli-Canadian architectural student Moshe Safdie, Habitat 67 was built for the World's Fair Expo in 1967. It is a housing complex with a revolutionary vision – the creation of high density community housing incorporating gardens, fresh air and privacy in a multilevel design. Up to 12 storeys high, it is made of 354 prefab concrete units arranged in various combinations, allowing 146 residences in different sizes. Each unit has access to one or more private terraces. Safdie's initial objective of Habitat 67 was to provide affordable housing in cities, however the popularity of the landmark complex pushed up prices of the apartments and Habitat 67 became a prestigious address to live. A group of tenants formed a partnership and purchased the building in 1985. Habitat 67 launched Safdie's career in architecture and he has since designed over 75 buildings around the world.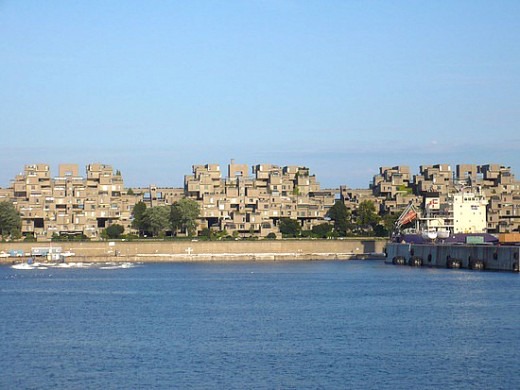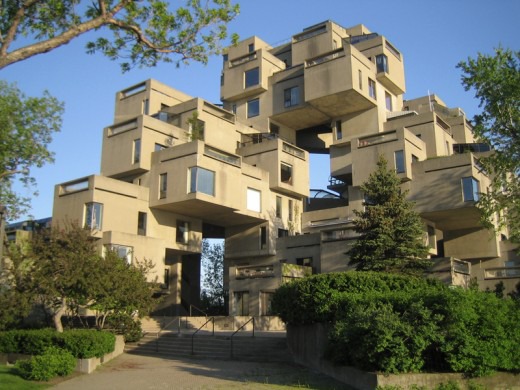 6. Citadel, Naaldwijk, The Netherlands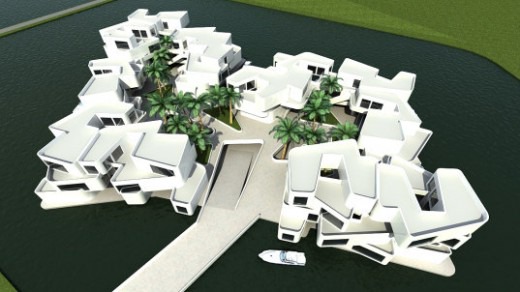 Due to begin construction in 2014, the Citadel building is the first floating apartment complex in the world and is one of six of the "New Water" developments in the polders of the Netherlands. The Netherlands has over 3,500 polders, which are areas of land below sea level that are prone to flooding. Usually polders are protected by dykes and the water is pumped out, but the Citadel floats on the wetland water, requiring none or minimal land modification and maintenance. Containing 60 luxury apartments and a parking lot, each unit has a private outdoor space and berthing for a small boat. Using water pumped through submerged pipes as a cooling technique, it is estimated that the Citadel is 25% more energy efficient than if it was built on land.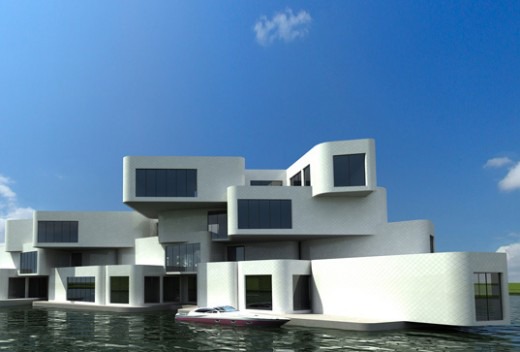 7. The Ancient Cliff House, Guyaju, China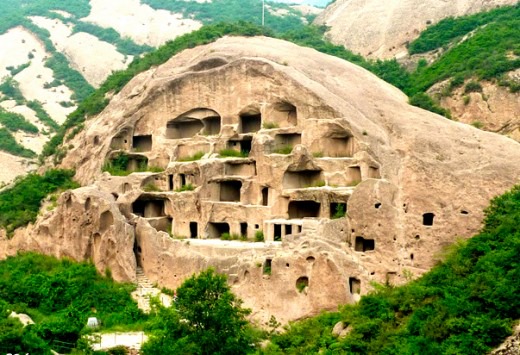 Over 110 rooms were carved into the side of a cliff about 92km northwest of Beijing in the Tang Dynasty. The Xiyi people lived in them and built the communal caves near a natural spring. The Guyaju Caves are known as the largest cliff residence ever discovered in China and are also known as "the biggest maze of China". Stone steps and ladders were used to connect the different levels, and inside were found stone hearths, wardrobes, beds and mangers. At the highest level of the communal cave was found a two storey stone house, featuring furniture which may have belonged to the leader of the tribe.
8. Cappadocia Rock Houses, Central Anatolia, Turkey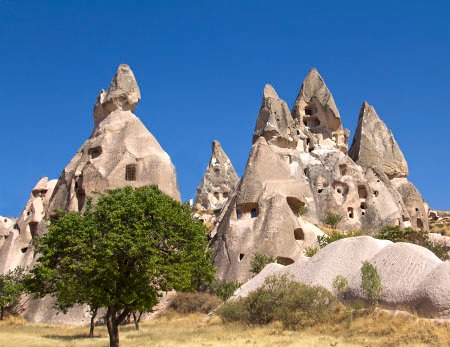 Cavelike rock houses, mansions and monasteries are a popular tourist attraction in Cappadocia, where the people have carved out houses and tunnels in the soft rock. Millions of years ago, volcanic eruptions covered the region with an ash which solidified into a soft rock, then the erosion of wind and rain created unusual formations in cones, mushrooms, pillars, pinnacles and chimneys that rise as high as 40m. Due to being able to tunnel in the soft rock, the residents created an underground network of catacombs leading to towns with buildings up to 8 storeys high beneath the ground. Today, some people still live in the rock homes and tourists are welcome to stay in rock hotels and take a hot air balloon trip across the Göreme Valley.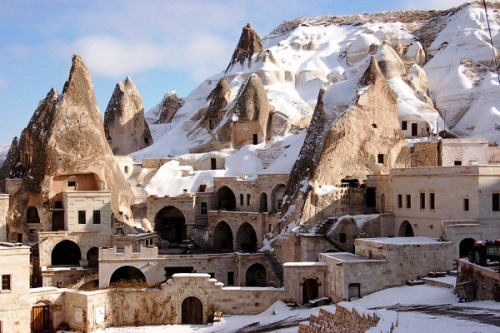 9. Hằng Nga Guesthouse, Dalat, Vietnam
Originally designed by Vietnamese architect Dang Viet Nga, the Hang Nga Guesthouse is also known as the "Dalat Crazy House" by the locals and vaguely resembles a giant tree. With 10 themed guest rooms, the house is open to tourists. It boasts lots of nooks, crannies, twists, turns, bridges, hallways and staircases and is promoted as a fairy tale themed house surrounded by sculptures and gardens. All of the furniture inside the house needed to be handcrafted to fit in with the organic shape of the interior.
10. Beehive Houses, Syria, Iran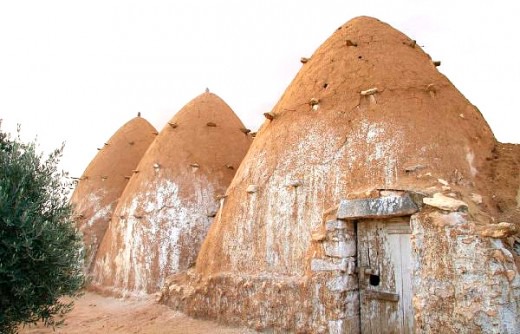 Made from mud, dirt, straw and stones, these beehive houses originated around 3700 BC and can be found in rural farming communities, deserts and cities. Each beehive has an oculus hole at the top, which lets in light and sucks out hot air. When there is rain, the conical shape of the beehive keeps the interior dry. They are very cool inside, due to the insulation of the thick walls and are still in use today as residences and storage barns.